Directions
Do you have a smartphone or tablet? Tap this link for turn-by-turn directions from your current location to BJ's Deep Creek Rentals and JJ's Tubes
Bryson City Directions
US 74 (Great Smoky Mountains Expressway) is the main highway leading to Bryson City.
Take Bryson City exit 74. Drive down the hill; at the first traffic light, take a right on to Main Street.
At the next light, take a left on to Everett Street; go straight thru the next red light; cross railroad tracks and take an immediate right on to Depot Street.
Go to the stop sign and make a left, then make a quick right onto West Deep Creek Road. (Bear left; do not cross the bridge) From the stop sign, it is approximately 1.7 miles to BJ's Deep Creek Rentals.
Look for a red barn with a large flag pole on the left side of the road. The barn has JJ Tubes on the front of it. After passing the barn take the first road to the left. Mom and Dad's Place is first, the Chestnut Cabin is second and the Lollis Cabin is third.
Bryson City is one hour west of Asheville, NC; two hours from Greenville/Spartanburg, Chattanooga and Knoxville. And three hours from Atlanta and Charlotte.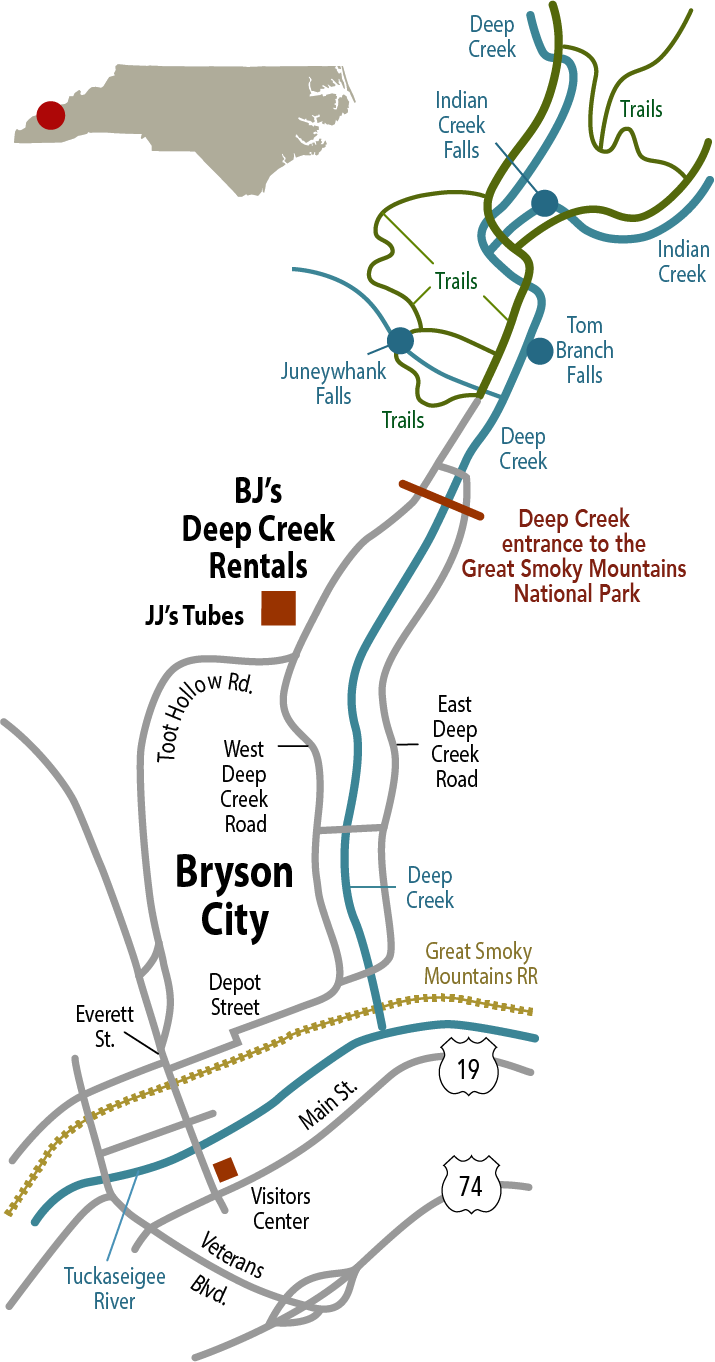 "We are so glad that we found this wonderful cabin to stay in (for our honeymoon). It was so peaceful and everything we wanted. We hope to come again with family, we know they would have a great time. God bless you both and thanks again!"
– L & V Masters, South Carolina